Post by CEO Harvey McCutchins on Feb 6, 2011 15:32:53 GMT -5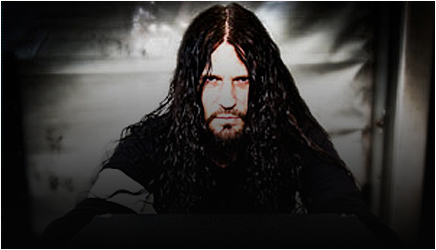 Name: The Scorpion
Date of Birth: Unknown (appearance indicates an age in the early-to-mid twenties)
Alignment: Heel
Billed From: Parts Unknown
Height: 6'4"
Weight: 240 pounds
Entrance Theme: "My Mind's Eye" by Sirenia
Wrestling Style: Strong Style
Favorite Match Type: Any
Pic Base: Sharlee D'Angelo
Signature Moves
1. Eternus Moestitia (Translated: Eternal Sorrow) (Spinning Brainbuster)
2. Lament of Innocence (Angle Slam)
3. Chain of Subjugation (a series of rolling dragon suplexes, similar to the Chris Benoit rolling Germans)
Finishers:
1. The Eliminator (Psycho Driver)
2. The Revelation (Diamond Cutter with both men standing on the top rope) (NOTE: This is the "limit break" finisher and as such should only be utilized in big match situations!)
Biography:
The Scorpion is a dangerous, brilliant, misanthropic loner with a God complex. He is incredibly intelligent, fluent in several languages and possessing a genius level IQ of 182. He has a fondness for Latin, as he considers it "intellectually superior" to speak a language few can understand. Other than this though, little is known of this strange enigma of a man. Apparently ravaged by memories and hardships of his past, the young fighter relishes in darkness and isolation. The Scorpion will never willingly initiate human contact because of a deep seeded trust issue and is also prone to violent tendencies if approached. It is also unknown how he came to acquire his amazingly high level of intelligence. His apparent lone goal in life is fulfillment of a bizarre religious ideology called apoctastasis. Apoctastasis refers to the belief that after the Apocalypse, God will reconcile good and evil and revert existence back to its initial paradisiacal form.
As a result of this ideology, The Scorpion believes it is a mission from god to eliminate human beings, the ultimate source of sin, so that the reconciliation may come faster and the world will thus not have to suffer as long. This support had led to an ultra-fanatical mindset, as his faith literally dominates his entire existence. As a result, The Scorpion has been known to exhibit such characteristics as self-flagellation after perceived poor performances, clear mental instability, and at times seemingly suicidal tendencies. When this incredibly strict ideology combines with his past, The Scorpion becomes an extreme misanthrope, hating humanity and the human form due to his perception that human beings are the ultimate embodiments of sinful natures. As a result, there is no limit to what The Scorpion will do to himself or his opponents in order to succeed. Mercy is unheard of from The Scorpion and he seemingly anticipates the same from all adversaries. How he became involved in wrestling is, like almost everything else about him, a complete mystery.
Championship History:
* AGWF Heavyweight Champion (2x)
* AGWF Intercontinental Champion (2x)
* AGWF Hardcore Champion
* AGWF Tag Team Champion (w/Snake)
* BDW World Heavyweight Champion
* BDW Tag Team Champion (w/Snake)
* XIW World Heavyweight Champion
* WXWF Universal Heavyweight Champion
* PMW World Heavyweight Champion
* PHW United States Champion
* PHW Tag Team Champion (w/Logan Darkholme)
* EWF World Heavyweight Champion
* EWF Trifecta Champion
* TW World Heavyweight Champion (2x)
* UWE Intercontinental Champion
* PrYde Xtreme Tag Team Champion (w/Claude Baptiste Rainer)
*FOX Network TV Champion (Current)