Post by CEO Harvey McCutchins on Feb 20, 2011 19:49:17 GMT -5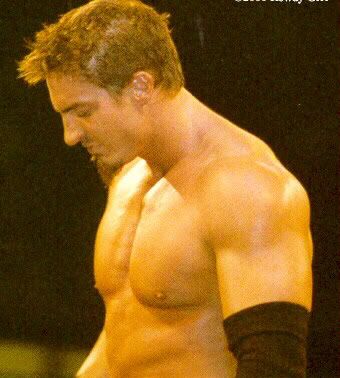 Name: Brendan Aryze
D.O.B: March 20, 1986
Alignment: Face
Billed From: Paia, Maui, Hawaii
Height: 6'3"
Weight: Oscillates anywhere between 238 and 244 lbs.
Entrance Theme: "Cinderella Man" by Eminem
Wrestling Style: Technical – excels in holds and throw variations, but he loves high flyers. He's a little big for that style, however. He incorporates what he can.
Favorite Match Type: "As long as I get to fight somebody, I don't give a fuck."
Signatures Moves (Max of 3):
1. "White Russian" (Haas of Pain)
2. "Reckless Eyeballin'" (Standing Code Blue)
3. "Out of Pocket" (Ranhei)
Finishers (Max of 2):
1. "Kick You in the Teeth" or the 'Kyitt' (Sweet Chin Music)
2. "Fresh Velour" (Ankle-lock)[/color]
Bio:
Born 'Brendan Kade', March 20, 1986 in Paia, Maui, Hawaii.
Brendan Aryze is 24 years old, stands 6'3" and weighs a shade under 240 lbs. He was born on the Island of Maui, Hawaii from Caucasian parents, and now lives in California. He has dirty blond hair and is known to wear colored contacts.
Brendan enjoys long walks on the beach and repeatedly backhanding offenders. His interests include surfing, snowboarding when on the mainland, CrossFit, martial arts (Muay Thai, Jiu Jitsu, and Capoeira particularly), gymnastics, heavy pimpin', rock climbing, time-consuming strolls on pristine beaches with a mean swagger and slight lean, and backhanding offenders repeatedly.
As a haoli (caucasian) kid growing up on the Islands, Brendan had to be prepared to defend himself and his parents were aware of that. He grew up around combat sports, and the martial arts in particular. He discovered an affinity and talent for wrestling while in grade school, wrestled in high school, and used wrestling to pay for his college education. He even wrestled professionally for some time, but retired after only a year. He cited "politics" as what drove him away from the sport despite success.
He's older now, isn't nearly as idealistic, and has no real aim in wrestling other than adventure and challenge. He recalls his days as a wandering warrior favorably, and seeks to again travel a similar path.
Championship/Award History: None